Partners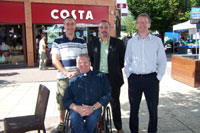 MSM are very pleased to have been able to give a grant towards the set up costs for the new CafeChurch at Costa Coffee outlet in Waterlooville, Hampshire.
Increasingly we recognise that for many of those we want to reach, our friends, family etc, our church building can act as a barrier.
For many in our society today the church building on the high street is seen as a symbol of 'religion' and the meeting place of 'religious people', old fashioned, out dated and without relevance.
Whatever is going on in there they are not going to come in to find out!. People who have never set foot into a church, but who have a spiritual hunger, people, from all walks of life, who do not want religion, but need reality, are all welcome at CafeChurch. We started to think; if Jesus was among us here today in our city He would want to meet people, sit with people, talking, listening to them from where they are at.
One of those places might be a coffee shop.