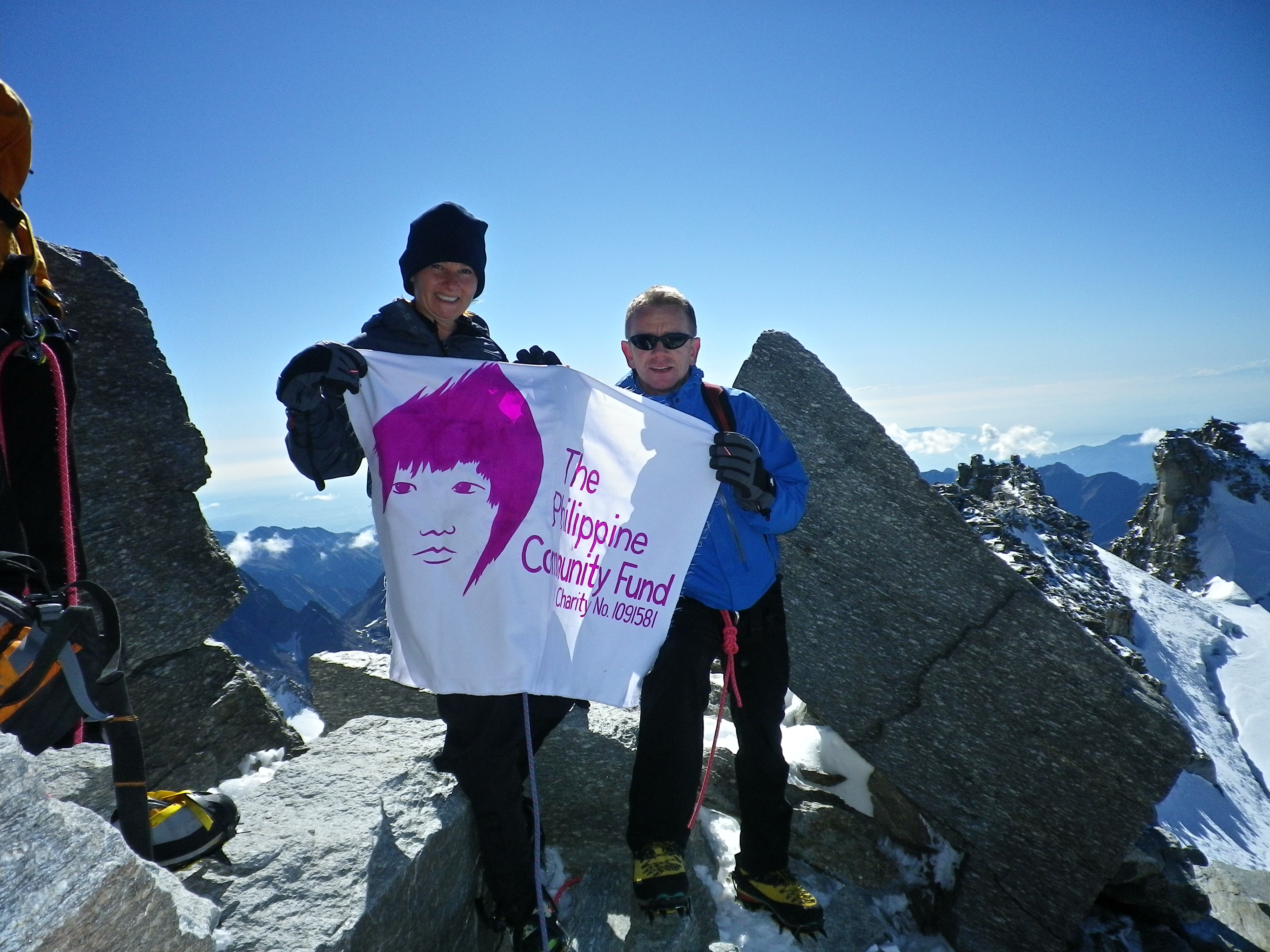 Dear All
Thank you so much for sponsoring Gary and I and for those who prayed for our safety ( possibly my sister the most fervently!) and for all the well wishes from the PCF team in the Philippines. Gary completed his ascent on the Matterhorn which was an amazing achievement as he climbed an almost vertical rock face in arctic conditions.
I was able to complete 2 days training on the glaziers, but the third day was called off due to bad weather. We were not able to climb Mont Blanc due to heavy storms and avalanche warnings so we climbed Mont Parasido the tallest mountain in Italy which was around 400 metres smaller than Mont Blanc. For me it was still a huge challenge which was made more difficult because my heels were red raw from hiking on the glaziers a few days before.
Gary and my mountain guides were terrific as Gary carried my heavy boots and ice pick over the rocky parts of Mont Parasido allowing me to climb in my trainers until we reached the glaziers and snow, by this time my right foot was already infected and both of my heels were bleeding, and our mountain guides climbed at a slower pace and later carried one of my boots, lightening the load of Gary's already heavy rucksack.
I then changed into my mountain boots and crampons and started the ascent to the summit, being encouraged all the way, Gary and I sang an array of songs from my own version of - "Hi Ho, hi Ho its up the snow we go" to the tune of the Snow White and the Seven Dwarfs to Amazing Grace from Gary and a song we made up about how much we loved our mountain guides, all this to take my mind off the pain in my heels!
Eventually we reached the summit which was an amazing feeling, not just sheer relief from my side but to be able to stand some 4,100 metres and see the world from the top of a mountain was a breathtaking and awesome sight.
I feel very privileged to have been able to complete this climb, which would not have been possible without the incredible patience, training schedules and kindness from my climbing partner, Gary Chapman. For us knowing that PCF supporters had sponsored us, made us even more determined to make sure that we reached our summits, to date over 4,000 pounds from our target of 10,000 pounds has been raised with more money coming in every day.

We are please to report that fundraising through MSM has been able to provide much needed funds and musical needs in support of Ron and Joanna's Incredible work to continue the church to flourish.
PCF Community Churches are run in each community giving hope to the whole family through evangelism, Church services, youth groups, children's clubs, choir and cultural dance, bible studies and prayer meeting. The Churches also provide spiritual care to all of the beneficiaries and staff for PCF's programs and services. Currently the Churches serve over 1,050 people in its activities.
The Philippine Christian Foundation
Bailing Machines arrive in Manila.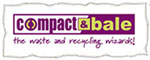 Steve Burnett of Compact and Bale:
Has now been able to deliver the first of a series of Bailing machines to further the support with PCF in Manila Phillipines.
This will help the project in Tondo dumpsite become a more self sustaining project, it will enable them to recycle their waste and produce an income to support the many projects that PCF have ongoing.
The Philippine Christian Foundation ( PCF) is registered charity in the Philippines which runs developmental programmes to alleviate poverty for child workers on the open dump sites and squatters areas.
PCF runs its own schools and educates over 700 children through an interactive, theme based curriculum. Each class has 25 – 30 students and children are provided with a school uniform, shoes and school supplies, and a Food for School Reward System ensures that children can earn food tokens in return for attending school and academic achievements. A College scholarship program sends 16 students into a higher education.
The Nutrition Program provides children with a daily glass of milk, and a high protein breakfast and lunch. However a supplemental meal is still needed for the 1st to 3 rd degree malnourished children. Children are weighed and measured monthly as part of to monitor their development.
The Health program provides free health care for all of the children and their siblings and parents to ensure that the children do not miss school days in order to earn money for medicines. Dental, mass medical missions are conducted throughout the year to serve the health needs of the families and wider community. Over 12,000 patients received free health care in 2008, many of which received medicines for pneumonia, TB, septis, and infectious diseases.
An extensive advocacy program is in place and 50 mothers are trained 3 days a week as primary health care workers. Despite these interventions the clinics are in constant need for money to buy more medicines and are currently serving just 25% of the community.
Child and Family Development employs qualified social and community workers who conduct home visits to all of the PCF children who are able asses the family's needs. In 2008 5,312 people received assistance in the form of counseling, emergency food supplies, assess to PCF or Government ran services and assess to materials for families to repair their broken down shanties.
Livelihood and vocational training is offered to over 200 out of school youth, single or elderly parents. Skills are mastered in sewing, jewelry and greeting card making, and electronics. Once students have learned a new skill help is given in the form of micro finance to enable them to become financially independent.
Income Generation is a program where by PCF sells it products both locally and overseas. Help is needed to widen the PCF Products marketing base and supporters can sell their product which generates an income for both the poor families and profits are invested back into the livelihood program to help more families. In addition to this PCF runs its own Material Recycling Facility (MRF) whereby they collect the cities garbage and segregate and sell waste, currently 49 waste pickers are employed and have been able to increase their earning potential 3 fold.
PCF welcomes qualified volunteers in the areas of health, nutrition, skills training and education. Volunteers with experience in pastoral care, and youth or children's ministries are also welcome. To find out more information please contact, Info@p-c-f.org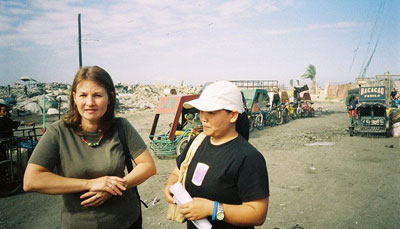 PCF is working out its vision to create a clear pathway out of poverty
for
all children and their families who live and work on the dumpsites
and
squatter areas throughout the
Philippines
.
Their mission is to help Philipino families to change their
working
environment and improve their standard of life.
The majority of families are desperate for the chance to change
their
own lives and many are not looking for hand outs but for a
helping hand
so that they can provide for all their childrens basic needs.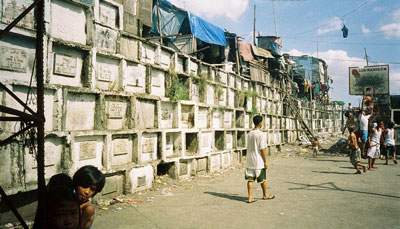 PCF has a complete holistic approach to its work and is tackling
poverty at every level, through its education, health, nutrition,
pastoral and livelihood programs.
All their projects are guided by
Godly values regardless of religion
race or political boundaries.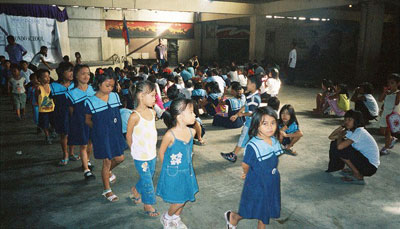 MSM is helping to raise awareness of this valuable and
worthwhile foundation and has contributed some funding for the
church
on
the
dumpsite.