Mustard Seed Ministries - Get involved support
Start your own fundraising page
to send to all of your friends and family

.
Childrens charities are arguably one of the most important areas of fundraising. Many children we support throughout the world need your support to help protect them or give them a better quality of life.
With age comes various physical,social and mental disorders.
MSM are dedicated to the support care and wellbeing of the elderly.
Companies

can also do their part to donate, raise awarenes and support
,
all
with the benefit of

GIFT AID

.
PLEASE, PLEASE, it dosent take much to make a BIG difference to the children and people that are really in need.
Thank you to all of the people who support us quietly with their time and finances,
You are invaluable to our support work both here in the U.K. and overseas, without you we at Mustard Seed Ministries would never be able to support to the extent we do.
I am about to tackle
Alaska's Mount McKinley -
to raise funds for for my wifes charity in The Philippines (PCF) and my good friends Rick & Gillys' charity (MSM) in India.
Supporting our overseas partners:

PCF (Philippine Community Fund)
MSM (Mustard Seed Ministries)
80% of all funds raised will go to PCF and 20% to MSM

I have self funded all my costs so EVERY penny of your support goes to the charities

Would you consider supporting me by:
* Making a donation?
McKinley is a pretty daunting place. The highest mountain in North America, McKinley is one of the Seven Summits at 6,100 metres (20,320 feet) and probably the coldest mountain on the planet.
Because McKinley is only a few hundred miles below the Arctic circle I will, at times, be experiencing temperatures down to minus 40 celcius and 100 mph winds. For this reason, climbing Mt McKinley combines the challenges of high-altitude climbing with those of a polar expedition. Add to that the necessity of carrying a 70 litre backpack plus dragging a sled of equipment for 2 weeks and you can see how worthy a challenge it will be.
We get dropped off on a glacier by a small aeroplane with skis - Hike to base camp with snow shoes - set up 4 further camps - then (hopefully) attempt the summit.

The biggest dangers will be falling down icey crevass's of 100s of meters deep, the Freezing cold and the dreaded and unpredictable Altitude Sickness. Historically; 1 in 2 climbers on this mountain do not reach the summit, 3 out of every 100 die trying.
I have been training like crazy for the last four months - climbers typically use 4,000 - 5,000 calories a day on such an expedition.
I fly to Alaska on April 27.
Summit day should be between May 12-15
A big thank you for all your support since my last climb up Mt Blanc in 2009 for the same charities.
Donating through JustGiving is simple, fast and totally secure. Your details are safe with JustGiving – they'll never sell them on or send unwanted emails. Once you donate, they'll send your money directly to the charity and make sure Gift Aid is reclaimed on every eligible donation by a UK taxpayer
Mail from Steve Burnett in Illigan City, after the Floods.

Hey you guys
Hope you are well and blessed?
It's a week now since I came home and I am back to the grindstone! Just finished work but emailing you before I leave the office!
I went to Iligan not sure what to expect. Would the city be devastated and destroyed with need and anguish on every corner? Would I be overwhelmed?
In reality, nothing much looks any different on the surface. You would really hardly know there had been floods except for the occasional property that's not been cleaned out and all the driftwood that seems to be everywhere (apparently all the massive logs got taken by the govt shortly after).
Its only when you speak to people and ask that you realize the sheer terror of what happened just before Christmas. Whole families were drowned in their beds. Children were swept away and drowned or found dead in the waters. People I know told me heart breaking accounts of their terrifying ordeals.
Then when you visit some of the areas where many homes were destroyed and you see what happened to concrete houses and the main new bridge, you get a feel for the power of the flood waters.
And when you visit the tent cities where 1000s of people live without elec or sanitation and as yet no real hope from the govt of a new home…..they talk of red cross grants for 50k or 70k pesos but no one got one yet! And how hot is it under canvass when its 34 degrees outside??
I prayed with people and for people. For sure there is need but mostly I saw people used to life struggles just trusting God and getting on with their days.
I saw Stephen and Sonia and their family really loving and helping kids and families both in their neighbourhood (feeding on Saturday morning) and at the dump (feeding on Monday morning). This totals some 300 kids approx and there is some real good kids and real needy kids and really hurting kids included (and all sorts of other kids too I guess!). Their new worship centre and home is just great. It's a nice size upstairs room with kitchen and 3 beds/2 baths off it. Its spacious and airy with a nice balcony. They are in just the right place too. The neighbourhood is apparently where the shaboo is made and sold (crystal meth) for all of Mindanao. There are lots of kids with parents in jail for this. I guess the world has plenty to tempt a young man or woman with if they have no work or education…..
And the kids at the dump and their mums were just so pleased to see Stephen and Sonia and Adrian and Aiyleah. You can really see the love going both ways. Christ's love.

Thank you to Tammy and The TeamRoadRunners and all of the staff who support us with their donations and hard work tearing off ringpulls from cans, for your time and dedication,
You are invaluable to our support work both here in the U.K. and overseas.
Gary Chapman climbs MONT BLANC.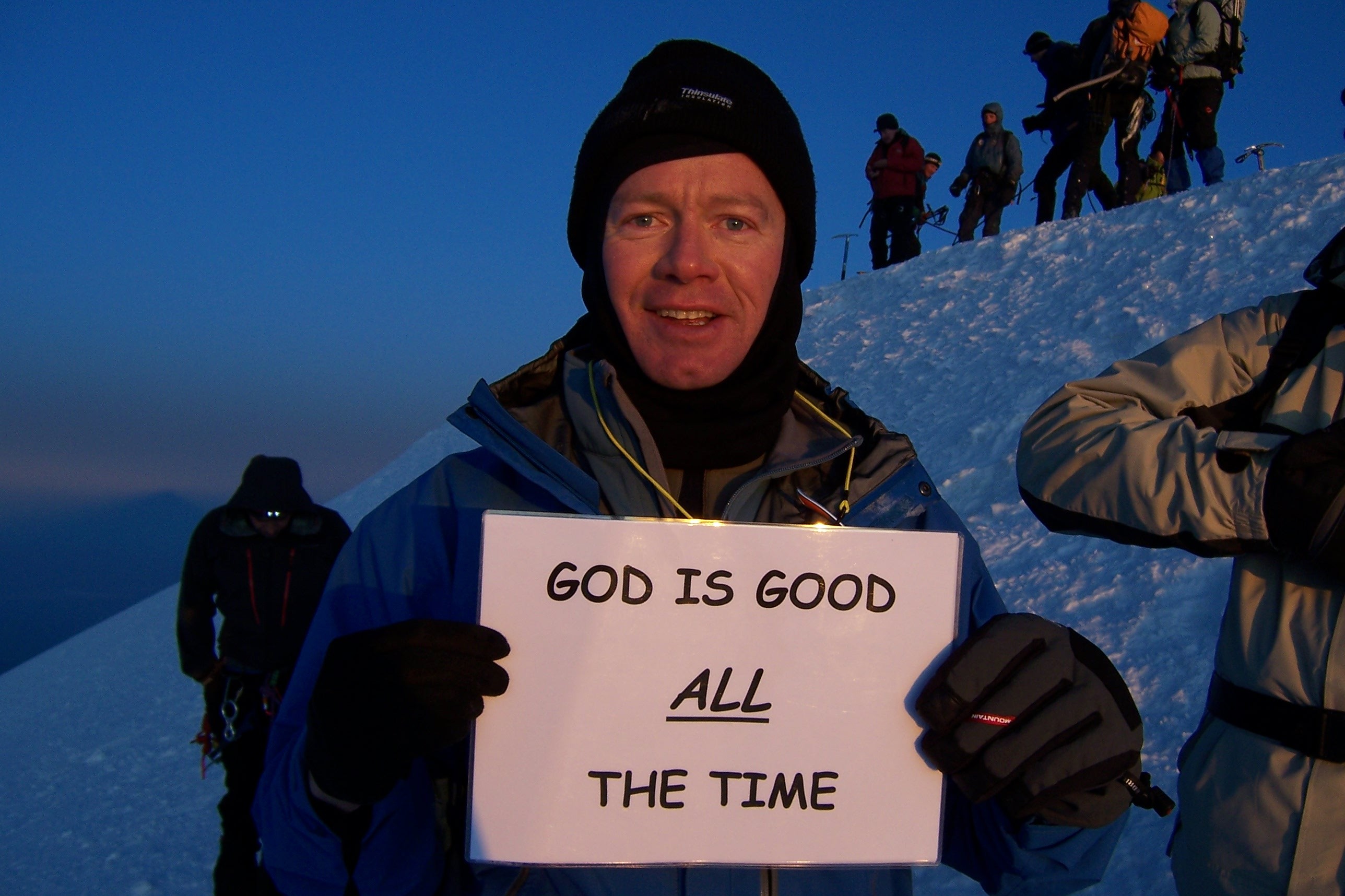 Gary Chapman has now returned from his amazing climb to the sumit of Mont Blanc in support of MSM projects in ILLIGAN CITY in the Philipines and Faith & Football charity.
If you would like to send him a message of encouragement or support him by way of a donation to his climb. please go to the "contact us" section to leave your message of support for Gary.or go to "donate" to help him raise his financial support for his climb.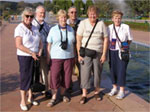 KINDRED SPIRITS:
are very close friends of Mustard Seed Ministries and have been invaluable in raising funds in the North through small fund raising activities. They have visited our projects in India many times and are very faithfull to the projects we support.
Our sincere thanks for their ongoing support.
Sheila,Rod,Sheila,Mac,Betty,June & Jef
f.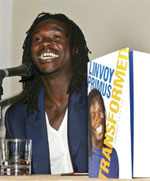 LINVOY PRIMUS:
Portsmouth Football Club. player of the year, and author of his new book 'Transformed', one of the founder mambers of Faith and Football.
Is a very close friend of Mustard Seed Ministries and has been invaluable in raising funds with personal apperances at various funraising events. Click here to see his latest book
BRAINTREE COLLEGE, vist MSM projects in Goa.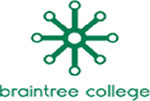 BRAINTREE COLLEGE:
Eighteen students studying the CACHE Diploma in Child Care at Braintree College and three members of the Child Care teaching team have returned from a successful 15-day study visit in India.The students worked with street children in primary schools, special needs schools and orphanages in Goa, where they assisted with teaching, playing games and caring for the children.

Lecturer and Programme Leader Michelle Harvey said: This was an experience of a lifetime for the students, enabling them to put into practice the knowledge they have gained from the CACHE Diploma, and broaden their experience of health and community care, play and early learning.It certainly reinforced the students learning experience and their understanding of child care.Two students have already planned to return to India in November to work with children in orphanages.

.Click here to go to their web site:
FRANCESCA BURNETT

: running to make a difference.
along with

The Special Care Baby Unit at Pembury Hospital, and Mustard Seed Ministeries, have all benefited from Francescas
training for the London Marathon She ran on 13th April 2008 and had
been getting up at the crack of dawn, pounding the streets of West Kent, to put in the training needed for the London Marathon.
COLONIAL BROTHERS:

new music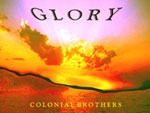 COLONIAL BROTHERS:
Have offered their music in support to the work of Mustard Seed Ministries.
All songs from their album are available for down load at their site.
All monies collected will go directly to the work of MSM. Click here to go to their myspace page.
RAWKIS: live benefit concert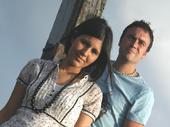 RAWKIS:
Perform their own music in support to the work of Mustard Seed Ministries. In the last year they have raised over £1,000.00 Their misic is at the cutting edge, and many believe that this is their year for sucsess in the mainstream music scene.
Click here to go to their myspace page. or:

Managing Director, STEVE BURNETT from Compact and bale, has very kindly supported Mustard Seed Ministries for this new long awaited web site.
His donation has enabled us to have a much wider internet presence, hopefully to draw more attention and awareness to our supporting costs
BIG LOVE Steve and great thanks, from all at MSM.
FRAN CARABOTT: running to give life.
FRAN CARABOTT:
Has been a great friend and supporter to MSM and has finished his training, taking all of the sea breezes on offer on Southsea sea front, and the mud wind and rain on the South Downs, training for the London Marathon he ran on 13th April 2008.
His efforts will be supporting MSM projects in India and the Philippines.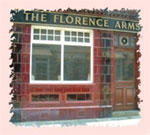 Florence Arms
:
Greg owner of the Florence Arms in Southsea has generously donated a much needed projector for the work in India. It has been a tremendous blesssing already, over Christmas 500 children from poor communities had the opportunity to see films, some for the first time.